By Urling Searle
President, Greenwich Tree Conservancy
Do you know that you live in an Urban Forest?
You Do!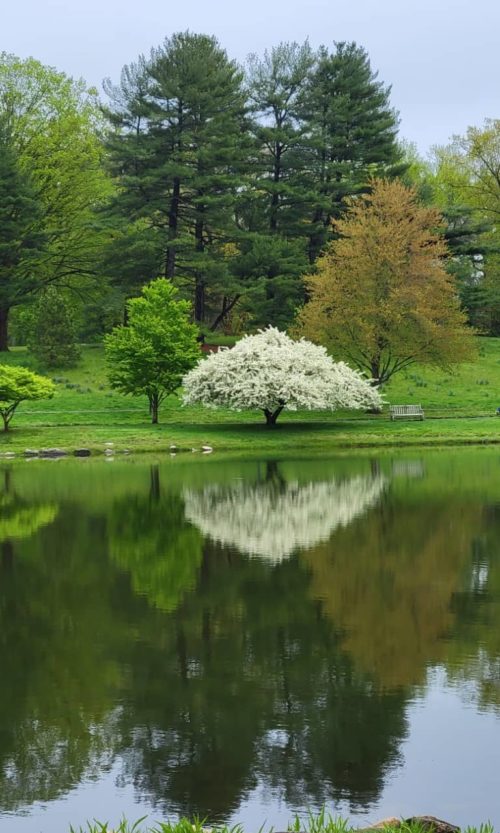 A quick online search on the benefits trees provide yields a remarkable and extensive body of work. In the US alone, trees are estimated to provide an annual economic value of $18.3 billion from their removal of air pollutants, reduction of energy use, holding of carbon and avoidance of pollutant emissions.
Trees are often the welcome patch of green our eyes seek when looking out a nearby window and the familiar backdrop of outdoor enjoyment with family and friends. The trees along our streets and in our parks, and backyards, make up what is termed an urban forest. A collection of woody plant vegetation growing within a city, town or suburb. In Greenwich we are fortunate to have an internationally recognized arboretum.
As the first leaves of spring unfold, they begin absorbing carbon dioxide transforming it into oxygen through photosynthesis. This produces a measurable spring cleaning of our air. When that rumble of thunder brings with it a downpour, trees retain great quantities of rainwater in the ground, allowing it to filter slowly into the soil where it supports life and fills underground aquifers. This greatly reduces the quantity of toxic chemicals that would otherwise run onto neighboring properties, nearby waterways and Long Island Sound.
When you cross over to the tree shaded side of a street or seek out a spot under a tree to relax on a hot summer afternoon you know how well trees cool the air. The shade created by trees lowers the energy bills of surrounding homes and offices. It also lowers the temperature in parking lots that otherwise act as large heat islands….[continued]
Click here to read the full article in the Greenwich Sentinel.